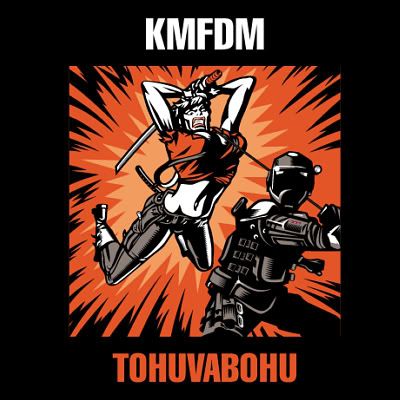 Kein Mehrheit Für Die Mitleid: Tohuvabohu
Album line-up: Sascha Konietzko, Lucia Cifarelli, Jules Hodgson, Andy Selway and Steve White.
After twenty three years and fifteen studio albums anyone would start wondering if a band still has the ability to deliver. Well, relax, because KMFDM just knocked their sixteenth proper album, Tohuvabohu, out of the park.
Tohu va bohu (תֹ֙הוּ֙ וָבֹ֔הוּ) is a biblical Hebrew phrase found in Genesis 1:2. It means "formless and empty," and describes the condition of the earth before God said, "Let there be light."
The title Tohuvabohu, pronounced phonetically: toe-who-vuh-bo-who, is interpreted by the band as meaning "wild and chaotic." Seems fitting as the album is a bit experimental. Several different styles and languages come together to form, surprisingly, a very coherent album. Usually bands that experiment with different styles of music on a single venture run the risk of having an album that never gains momentum with constant stops and style changes between tracks. KMFDM have managed to avoid this. While displaying different styles they've managed to make the styles conform to their unique sound. Styles present range from dance, metal, pop-rock and of course industrial. There are some strange styles, but they all seem to fit together like pieces of a puzzle. Even though the album is a bit more experimental in nature they could have easily shelved Hau Ruck, and released it with Tohuvabohu as a double album, and it would have been hard to tell that the two discs were made two years apart as two completely independent albums.
If you've appreciated the more blunt political influences started with WWIII back in 2003 and continued with Hau Ruck in 2005 you'll be happy to hear that it hasn't stopped. There are several tracks here (Headcase, Not In My Name) that one would have no problem calling anti-Bush tracks, and there are even anti-Bush administration/supporter tracks (Spit or Swallow). Regardless of the political theme the album can still be enjoyed by the non-politically charged listener.
As far as the musical quality of the album goes, it features the same KMFDM brand of sound we've come to expect. Nothing out of the norm, but that's really not a bad thing. There's a lot of variation throughout the album, but it's a structure built with the KMFDM brand of tools and materials. One thing I found interesting was a bit of brass has made it's way into the mix again. Something that Adios, Attak and WWIII exempted (or either I wasn't paying enough attention and missed it), but made a reappearance on Hau Ruck. That jazzy sax solo towards the end Superpower had me smiling. I've actually found myself unintentionally walking in step with Superpower when I'm listening to it in the home. Other than that it's the token crunching guitars and ultra heavy beats prevalent on previous albums.
Lyrically the album is quite diverse. Languages present are the usual English and German along with Latin, Spanish, Hebrew and Lingala. As far as voices go, I think Lucia really shines on this outing. In my experience most ladies who front for industrial bands either sing well and yell terribly or vice versa. Lucia pulls of both fantastically, from her singing on Bumaye and Fait Accompli to her digitally distorted, banshee-like screams on Headcase. She's further proving that it was a good choice to keep her in the ranks for the reformation with every outing.
Featuring eleven songs, the disc doesn't disappoint. Ten of the tracks are new and one is a cover of Liaisons Dangereuses' Los Niños Del Parque. Out of these eleven only two fall short of the four minute mark, and even then it's only by a maximum of three seconds. Eight of the eleven are on constant rotation for me, but that's not to say the remainder aren't just as good. For me the stand out tracks include, in specific order, Headcase, Los Niños Del Parque, Not In My Name, Looking For Strange and Superpower.
If you're really in need of an extra track you're in luck. There's an extra track, Tohuvabohu (Angelspit Remix), available exclusively through the KMFDM Store. In all honesty it's basically just "Tohuvabohu Lite", and is completely forgettable unless you're a completionist. It's included with the album if you decide to purchase the digital, downloadable version for $10.00, or if you purchase the Tohuvabohu bundle package which includes the CD, the extra track download for free, a shirt, a sticker, a button, a postcard and issues 1 and 2 of Vampire Freaks Magazine all for $28.00.
All in all, solid album. Worth a purchase. KMFDM SUCKS!
4.5/5
Amazon.com
Amazon.ca
KMFDM Store (album)
KMFDM Store (digital album)
KMFDM Store (bundle)